Wie Lotus Notes auch ICal-Dateien mit Umlauten richtig importieren kann
Ical-Dateien sind ja sehr praktisch, wenn es darum geht, Termine zwischen unterschiedlichen PIM-Systemen auszutauschen oder diese auf einer Webseite zur einfachen Übernahme in Lotus Notes oder andere PIM-Clients anzubieten.
Um so frustrierender war, dass Notes, seit es iCal-Dateien importieren kann, offenbar ein Problem damit hatte, die UTF-8 kodierten Umlaute in diese Terminen zu interpretieren. Alles, was dabei heraus kam, waren Einträge wie Alserstraße … MÃŒtzen … fÃŒr … LeitsÀtze … WÃŒnsche … berÃŒcksichtigen … – nicht wirklich hübsch.
Und das, obwohl die Umlaute, etc. in den File korrekt und standardkonform als UTF-8 encoded wurden:
3.1.4. Character Set
There is not a property parameter to declare the charset used in a property value. The default charset for an iCalendar stream is UTF-8 as defined in [RFC3629].
Ich war schon kurz davor, einen PMR bei IBM diesbezüglich aufzumachen, haben mich aber dann doch dazu entschieden, das Problem zuerst noch im vorzüglichen @Notes-Forum einzustellen. Und, was soll ich sagen, Micha hatte binnen weniger Minuten die Lösung: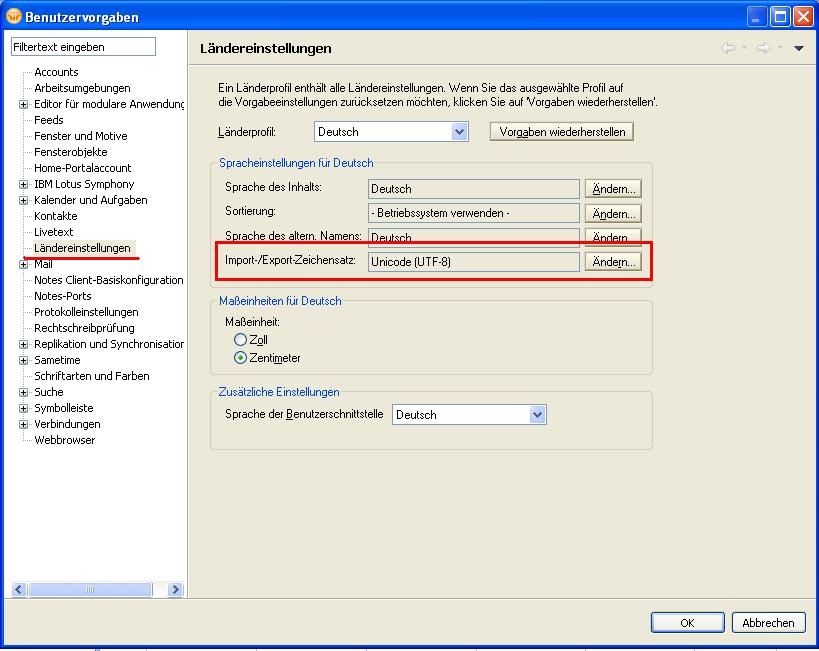 Stellt man in den Benutzervorgaben/Ländereinstellungen von "Westeuropäisch und USA (Windows)" um auf "UTF-8", funktioniert alles so, wie es soll
Nun frage ich mich aber schon, warum das von IBM noch immer per default auf den für iCals falschen Wert gesetzt ist. Ich denke, das werde ich mal auf der Lotusphere 2010 im UI Lab oder bei "BeatMeet the Developers" fragen. :)
Tagged as: ical, lotus, LotusNotes, notes, utf-8 | Author: Martin Leyrer
[Mittwoch, 20091125, 21:47 | permanent link | 0 Kommentar(e)