Putty: Setup Maintainance
Today, I decided to do a litte housekeeping and tweak my putty-setup a little bit, as I collected quite a few nuisances over the last year(s).
First if all, I backed up my putty settings to a .reg file following this description.
The second thing I wanted to tackle was the positioning of my putty windows (I have several open all the time, showing me logs of some of my machines). I automated the starting of these logs, but I always had to position them manually on my windows desktop.
There is a wishlist item for such a functionality, but this will probably never get implemented. The entry also points to several tools that could position windows on the XP desktop, but the free one disappeared and as I am a cheap guy, so I want a cheap solution ;).
Ignytion Window Layout Manager would have been my first choice, but as it isn't available (yet), I settled on "CMDOW – Commandline Window Utility".
A short cmdow /T /P showed me the position of the manually positioned putty windows so I could add the corresponding cmdow command to the batchfile that starts my putty-windows. This layout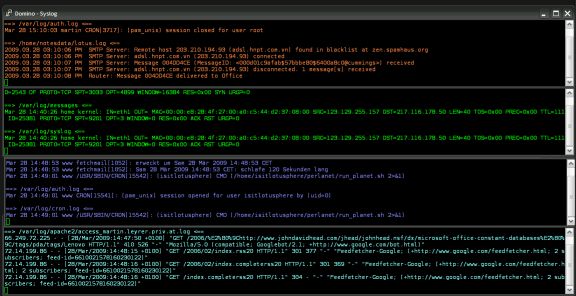 now gets automatically created with this batchfile:

 1 @ECHO OFF
 2 start "Syslog Eddie" "%ProgramFiles%\PuTTY\putty.exe" @z_eddie-Syslog_ext
 3 start "Syslog Webcave" "%ProgramFiles%\PuTTY\putty.exe" @z_Webcave-Syslog_ext
 4 start "Syslog martin" "%ProgramFiles%\PuTTY\putty.exe" @z_leyrer.priv.at-Syslog_ext
 5 start "Syslog Domino" "%ProgramFiles%\PuTTY\putty.exe" @z_Domino-Syslog_ext
 6 
 7 D:\Utilities\cmdow "Domino - Syslog" /MOV 453 619
 8 D:\Utilities\cmdow "eddie - Syslog" /MOV 453 756
 9 D:\Utilities\cmdow "webcave - Syslog" /MOV 453 896
10 D:\Utilities\cmdow "leyrer - Syslog" /MOV 453 1034

Another thing that bothered me was the fact that Midnight Commander (mc) wasn't showing up properly in my putty windows in the few instances I used him. A quick Google-Search brought up the necessary settings to wrestle putty into submission and showing proper Unicode line drawing characters:
menu: Window > Translation:

Received data assumed to be in which character set: UTF-8
Handling of line drawing characters: Use Unicode for line drawing

menu: Connection > Connection-type string: linux
menu: Terminal > Keyboard > The Function keys and keypad: Linux
Unfortunately, you have to have the "right" font. Consolas unfortunately (thanks Microsoft) doesn't have the unicode line drawing code points so I will either have to switch to "Courier New" or DejaVu Sans Mono (as shown in the following screenshot).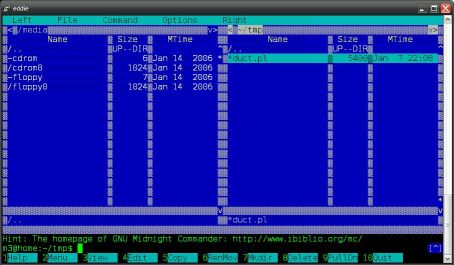 I don't know yet if I really want to switch from Consolas to one of the mentioned fonts. A nice, current and modern selection of monospaced fonts and their pros and cons can be found at the hamstu.
Tagged as: font setting, position, putty, windows | Author: Martin Leyrer
[Samstag, 20090328, 15:02 | permanent link | 0 Kommentar(e)