Well played, Google!
Microsoft reported on May 14th, 2013: "Outlook.com now lets you chat with Google friends, which was basically the announcement, that Microsofts Cloud-Mailsolution now supports the open standard Jabber/XMPP.
But on May 15, 2013 The Verge reports: "Inside Hangouts, Google's big fix for its messaging mess":
… the wait is over as Google introduces a new messaging platform it's calling Hangouts.
…
With Hangouts, Singhal [director of Google's real-time communications, Nikhyl Singhal] says Google had to make the difficult decision to drop the very "open" XMPP standard that it helped pioneer.
Hacker News has a statement from the Google App Engine Team online:
Google will be releasing a new communications product called Hangouts which users may choose to use instead of Google Talk. The new service does not support XMPP.
As of May 17th, 2013 the Google Talk for Developers page states:
Note: We announced a new communications product, Hangouts, in May 2013. Hangouts will replace Google Talk and does not support XMPP. The information in this Developer's Guide pertains only to Google Talk.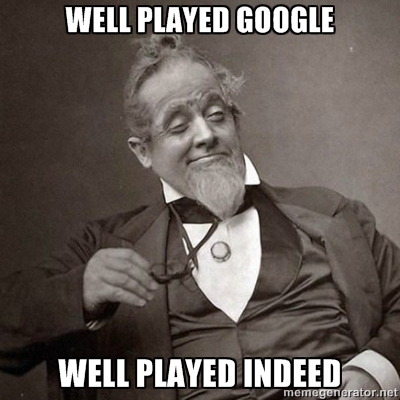 Soooo. Well played Google. After http and RSS you are now trying to kill off the one chance we had on establishing an open, interoperable chat protocol? What's next? SMTP?
Tagged as: chat, google, hangout, open standards, outlook, rant, web, web20 | Author: Martin Leyrer
[Montag, 20130520, 18:43 | permanent link | 0 Kommentar(e)