Must Have Gimmicks
If a have some money, some of these gimmicks will belong to me. :)

---

Self-Stirring Mug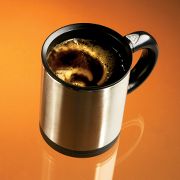 This mug has a miniature battery-operated propeller at the bottom of the well that spins at 3,000 rpms at the touch of a button on the handle, automatically stirring your beverage.
Keyboard Food Tray

This food tray is fitted onto any keyboards which occupy a lot of space on the desk, so user can eat their food during working without any interruptions of their work.
Floating magnetic bed

Designed by Dutchman Janjaap Ruijssenaars, this floating bed comes with more than enough magnet power to keep 900 kilograms suspended in mid air.
USB Flash-Storage Microphone
The FlashMic from HHB Communications is a digital recording microphone that comes with a built-in 1GB flash recorder. Recordings are transferred over to a PC via the USB port.
The Space Invaders Carpet

Sudoku Toilet Roll


Wenns mal wieder länger dauert.
Availabot offers alternative IM notification

Alarm-clock with USB hub


Bedside alarm-clock with a USB hub built into it.
Instructions and experiences to help you build your Star Wars droid

Direct Drive Washing Machine from LG
The new Direct Drive washing machine from LG uses steam to clean your clothes, instead of detergent. You will love the WM1437BFD washing machine all the more when you realize it comes with a 20 minute steam program that removes all creases accumulated during washes. No more ironing!
IFO 3000 Magnetic Display unit

This device looks like a table lamp but it actually contains a strong magnetic field at the head that supports a metallic object within while rotating it.
Door looks like you walk through it

Fukuda's Automatic Door opens around your body as you pass through it.
Original Ring Thing

No more searching through your desk drawer for bottle openers. You will always have one when you wear your Ring Thing.
SpokePOV

Spoke POV is an easy-to-make electronic kit toy that turns your bicycle wheel into a customized display!
Tagged as: gimmicks, musthave, Wunschzettel | Author: Martin Leyrer
[Freitag, 20060714, 14:54 | permanent link | 0 Kommentar(e)