Pimp your Nokia E71 - Reading OpenOffice Documents
roetzi pointed me to the OpenDocument Reader for Symbian OS. According to the documentation, it is possible to read OpenDocument files on a Symbian Smartphone using Open Source software.
Features include:
open OpenDocument text(.odt), spreadsheet(.ods) and presentation(.odp) as well as support for OpenOffice.org Hybrid PDF files
open OpenDocument files directly from email attachments, MMS, Bluetooth, filebrowser as well as webbrowser
view thumbnail image
get information about subject, title, keywords and other meta information
get statistics about paragraph count, words and pages
zoom and fullscreen
search
view of changes
Here is my latest article for "Die Presse" as an odt on my E71: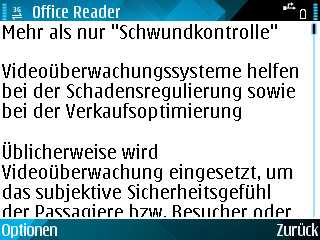 Another thing the Iphone doesn't support – open formats.
Tagged as: E71, nokia, openoffice, software | Author: Martin Leyrer
[Dienstag, 20090428, 20:16 | permanent link | 0 Kommentar(e)