Verkaufsverbot für LCD- und Plasmaschirme ab 2011?
Auf Konsument.at (4/2007) stand es ja schon geschrieben:
Stromverbrauch von Fernsehgeräten
Fern-
seher-
Techno-
logie
Bild-
schirm-
Diago-
nale
Watt
im
Normal-
Betrieb
Watt
im
Stand-
by
Strom-
verbrauch
(4h "on"/
20h
"Stand-
by")
Strom-
kosten
/Jahr
(335
Tage
am
Netz)
Röhre
72 cm
74 Watt
< 1 Watt
106 kWh
€ 19
LCD
74 cm
135 Watt
1,8 Watt
193 kWh
€ 35
Plasma
106 cm
195 Watt
< 2 Watt
275 kWh
€ 50
Und jetzt sind sie laut Wired auch bei der California Energy Commission drauf gekommen: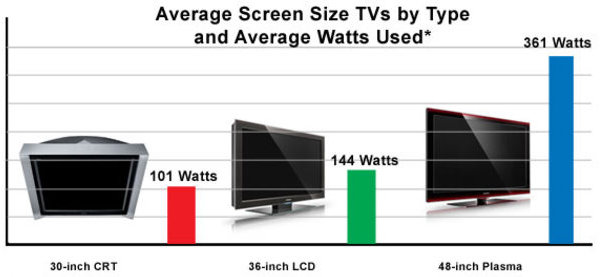 The California Energy Commission is proceeding with a proposal this summer to ban the sale of TV sets that do not meet new efficiency standards when they are turned on and displaying a picture – a measure of power consumption that is not currently regulated at all.
…
The CEC proposal is set up as a two-tiered system. The first enforces efficiency standards beginning in 2011 and would save 3,831 gigawatt hours (and bring down overall TV energy consumption by 33%) by placing a cap on the active mode power usage (in watts) of individual TVs. Current standards in California only regulate TVs in standby mode, at a cap of 3.0 watts.
Ich weiß ja, warum ich meine Röhrengeräte noch behalte.
Tagged as: hd, lcd, plasma, tv, verbrauch | Author: Martin Leyrer
[Sonntag, 20090405, 14:24 | permanent link | 0 Kommentar(e)