SSHFS - How Did I Miss That?
Somehow, this little tool escaped my radar: SSHFS software allows you to incorporate remote fileshares in your local filesystem over a SSH connection. This is done by implementing a virtual filesystem or FUSE (Filesystem in Userspace) which simulates a local filesystem to the operating system while fetching files and directory infomation via SSH/SFTP. On the remote computer the SFTP subsystem of SSH is used. So if your server runs OpenSSH, you are all set up for SSHFS.
What that means to the windows-user? You can mount any directory on your Linux-Server as a new drive letter without having to think about Samba or NFS. And it works across several routers and through firewalls so no VPN solution is needed.
Setup? Easy. Download the Dokan library and Dokan SSHFS and you are done. No reboot required.
For every drive you want to connect to, you have to start an instance of SSHFS. Authentication can be done either by username/password or OpenSSH keys. Unfortunately, Putty Agent is not supported. The user interface is rather staight forward: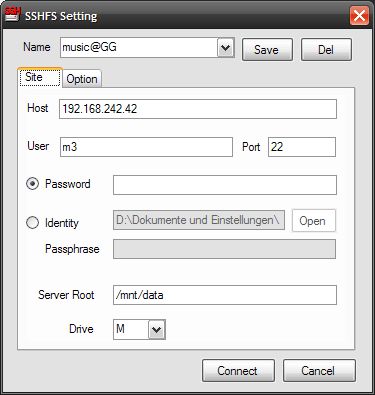 So far, I am quite happy. In my slow home network, I had to give DokanSSHFS.exe process higher priority to stream music over one connection without interruptions. Otherwise it just works. Try for yourself.
Tagged as: dokan, filesystem, mount, ssh, sshfs, windows | Author: Martin Leyrer
[Mittwoch, 20090513, 18:35 | permanent link | 0 Kommentar(e)