This is sooo wrong: The OpenOfficeMouse
With a revolutionary and patented design featuring 18 buttons, an analog joystick, and support for as many as 52 key commands, the OpenOfficeMouse is intended to provide a faster and more efficient user interface for OpenOffice.org applications such as Writer and Calc than the conventional icons, pull-down menus, and hotkeys presently permit.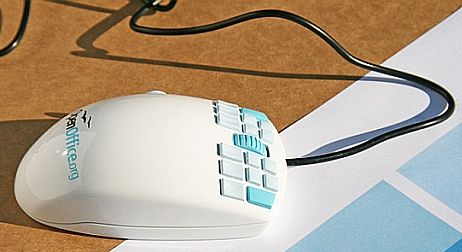 The OpenOfficeMouse is one of the first computer mice to incorporate an analog joystick and the first to permit the use of the joystick as a keyboard. In the three joystick-as-keyboard modes, the user can assign up to sixteen different keys or macros to the joystick, which provides for easy movement regardless of whether the user is flying through the cells of a large spreadsheet in Calc or on the back of an epic flying mount in World of Warcraft.
The features of the OpenOfficeMouse include:
18 programmable mouse buttons with double-click functionality
Three different button modes: Key, Keypress, and Macro
Analog Xbox 360-style joystick with optional 4, 8, and 16-key command modes
Clickable scroll wheel
512k of flash memory
63 on-mouse application profiles with hardware, software, and autoswitching capability
1024-character macro support.
Default profiles for Writer, Calc, Impress, Base, and Draw based on actual usage statistics compiled for OpenOffice.org 3.1
20 default profiles for popular games and applications, including Adobe Photoshop, the Gnu Image Manipulation Program, World of Warcraft, and the Call of Duty series.
When I write text, I don't grab the mouse, i use the keyboard.
Tagged as: hardware, mouse, openoffice, rant | Author: Martin Leyrer
[Sonntag, 20091108, 01:30 | permanent link | 1 Kommentar(e)