Das FBI empfiehlt für Ihre Datensicherheit ...
… TrueCrypt. :)
Seit 2008 versuchte zuerst die brasilianische Polizei und anschließend auch das FBI, die mit Truecrypt verschlüsselte Festplatte eines brasilianischen Bankers zu entschlüsseln, der sich für diverse "Finanzverbrechen" vor Gericht verantworten muss.
Wäre der Banker in UK beheimatet, würde er schon dafür ins Gefängnis gehen, da dort bereits ein Gesetz existiert, dass man Paßwörter den Behörden auf Anfrage bekannt geben muss.
Und dann gibt es natürlich auch noch einen ganz anderen Zugang, an die Daten zu kommen, wenn man unbedingt möchte: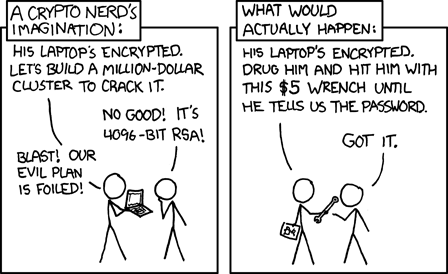 Wer mehr zu dem Thema wissen möchte, kann zu Cory Doctorow's "Little Brother" greifen:
"Do you know what waterboarding is, M1k3y?" Her voice reeled me in. "You get strapped down like this, and we pour water over your head, up your nose and down your mouth. You can't suppress the gag reflex. They call it a simulated execution, and from what I can tell from this side of the room, that's a fair assessment. You won't be able to fight the feeling that you're dying."

I tried to go away. I'd heard of waterboarding. This was it, real torture. And this was just the beginning.

I couldn't go away. The ocean didn't sweep in and lift me. There was a tightness in my chest, my eyelids fluttered. I could feel clammy piss on my legs and clammy sweat in my hair. My skin itched from the dried puke.

She swam into view above me. "Let's start with the login," she said.

I closed my eyes, squeezed them shut.

"Give him a drink," she said.

I heard people moving. I took a deep breath and held it.

The water started as a trickle, a ladleful of water gently poured over my chin, my lips. Up my upturned nostrils. It went back into my throat, starting to choke me, but I wouldn't cough, wouldn't gasp and suck it into my lungs. I held onto my breath and squeezed my eyes harder.
Tagged as: festplatte, security, truecrypt, verschlüsselung | Author: Martin Leyrer
[Sonntag, 20100627, 21:55 | permanent link | 0 Kommentar(e)