Towel Day 2010 in London
I spent this years Towel Day in London, and of course I had my towel with me (to the surprise of a few Notes-Geeks ;).
In case you do not know what I am talking about,
The Hitchhikers Guide To The Galaxy
Wikipedia has the following to say about Towel Day:
Towel Day is celebrated every May 25 as a tribute by fans of the late author Douglas Adams. The commemoration was first held in 2001, two weeks after his death on May 11, and since then has been extended to an annual event. On this day, fans carry a towel with them throughout the day. The towel is a reference to Adams's popular science fiction comedy series The Hitchhiker's Guide to the Galaxy.
Being in London for Towel Day meant for me visiting Douglas Noel Adams grave at Highgate Cemetery (East), where Douglas Adams rests in the vincinity of Patrick Caulfield, Michael Faraday, Anna Mahler, Karl Marx and Malcolm McLaren: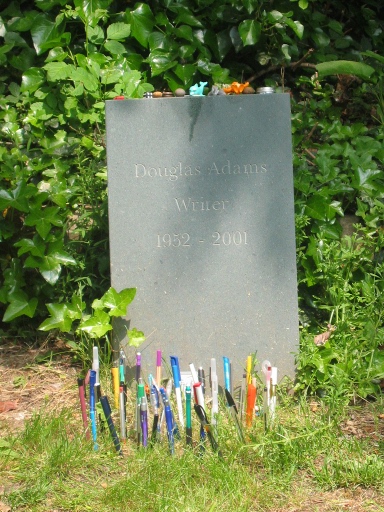 In case you are wondering about the pens …
The Hitch Hiker's Guide to the Galaxy is a very unevenly edited book and contains many passages that simply seemed to its editors like a good idea at the time.

One of these (the one Arthur now came across) supposedly relates the experiences of one Veet Voojagig, a quiet young student at the University of Maximegalon, who pursued a brilliant academic career studying ancient philology, transformational ethics and the wave harmonic theory of historical perception, and then, after a night of drinking Pan Galactic Gargle Blasters with Zaphod Beeblebrox, became increasingly obsessed with the problem of what had happened to all the biros he'd bought over the past few years.

There followed a long period of painstaking research during which he visited all the major centres of biro loss throughout the galaxy and eventually came up with a quaint little theory which quite caught the public imagination at the time. Somewhere in the cosmos, he said, along with all the planets inhabited by humanoids, reptiloids, fishoids, walking treeoids and superintelligent shades of the colour blue, there was also a planet entirely given over to biro life forms. And it was to this planet that unattended biros would make their way, slipping away quietly through wormholes in space to a world where they knew they could enjoy a uniquely biroid lifestyle, responding to highly biro-oriented stimuli, and generally leading the biro equivalent of the good life.

And as theories go this was all very fine and pleasant until Veet Voojagig suddenly claimed to have found this planet, and to have worked there for a while driving a limousine for a family of cheap green retractables, whereupon he was taken away, locked up, wrote a book, and was finally sent into tax exile, which is the usual fate reserved for those who are determined to make a fool of themselves in public.

When one day an expedition was sent to the spatial coordinates that Voojagig had claimed for this planet they discovered only a small asteroid inhabited by a solitary old man who claimed repeatedly that nothing was true, though he was later discovered to be lying.

There did, however, remain the question of both the mysterious 60,000 Altairan dollars paid yearly into his Brantisvogan bank account, and of course Zaphod Beeblebrox's highly profitable second-hand biro business.
Also, we were in London to hear Mark Knopfler play at the Royal Albert Hall (see previous post). Douglas Adams was a big fan of Mark Knopfler and included him in his book
So Long, and Thanks for All the Fish
:
Mark Knopfler has an extraordinary ability to make a Schecter Custom Stratocaster hoot and sing like angels on a Saturday night, exhausted from being good all week and needing a stiff beer.
Adams later revealed that the particular song to which he refers in the book – although never by name – is "Tunnel Of Love", from the Making Movies album.
Oh, and I searched (and with the help of Susanne) also found Fenchurch station (also see "So Long, and Thanks For All the Fish"):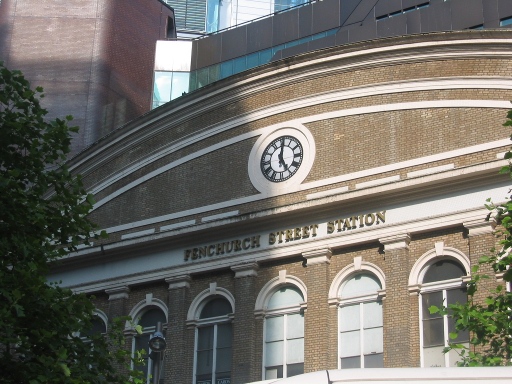 Fenchurch is a lovely girl, and she's a bit fractured. She resides on the Earth, and Arthur Dent falls completely in love with her.
Her unusual name stems from having been conceived in the ticket queue at Fenchurch Street Station. Or so her parents claim. They refuse to elaborate further, saying only that you wouldn't believe how bored it is possible to get in the ticket queue at Fenchurch Street Station. She plays the cello, has good taste in music and owns a pair of speakers that "would have impressed the guys who put up Stonehenge."
Douglas Adams was taken away from us way too early. May he rest in peace, without pressure from deadlines, happily tinkering away on his Mac. :)
Tagged as: dna, Douglas Adams, handtuch, HHGTTG, London, The Hitchhikers Guide to the Galaxy, towel, Towel Day, TowelDay | Author: Martin Leyrer
[Montag, 20100607, 00:25 | permanent link | 0 Kommentar(e)