Fixing the Date Format in Thunderbird
For months, years, … Thunderbirds date format buggered me. Whatever I set in this lame excuse for a "Unified Locale Setting", I was never able to get proper ISO 8601 format to show: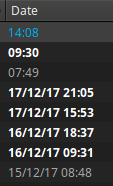 The locale "en_IE.UTF-8" is almost there for us Europeans, unfortunately, the date format is still "dd/mm/yy". Fortunately, I found the wonderful funky en_DK.UTF-8 locale hack.
But how to set this just for Thunderbird without always starting it through a batch file? Simple (for the Debian/Ubuntu based Linux Mint I am using atm), by modifiying the corresponding .desktop file. Open /usr/share/applications/thunderbird.desktop with your favourite editor and enhance the "Exec" line with a little magic:

Exec=env LC_TIME=en_DK.UTF-8 thunderbird %u

And "suddenly", Thunderbird uses the proper date format: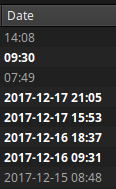 Caveat: This is of course a poettering – works on my machine for me. YMMV.
Tagged as: date, it, linux, locale, mail, rant, thunderbird | Author: Martin Leyrer
[Montag, 20171218, 18:46 | permanent link | 0 Kommentar(e)